What material is used for pouch packaging?
INTRODUCTION
In today's dynamic marketplace, packaging not only plays a key role in protecting products but also influences consumer decisions. Among the various packaging options available, pouch packaging has gained popularity due to its versatility, convenience and aesthetics. Customized pouch packaging, in particular, allows brands to create unique and eye-catching designs tailored to their products and target audience. However, the effectiveness of sachet packaging largely depends on the choice of materials. In this article, we'll take an in-depth look at the materials commonly used for customized pouch packaging and their respective benefits.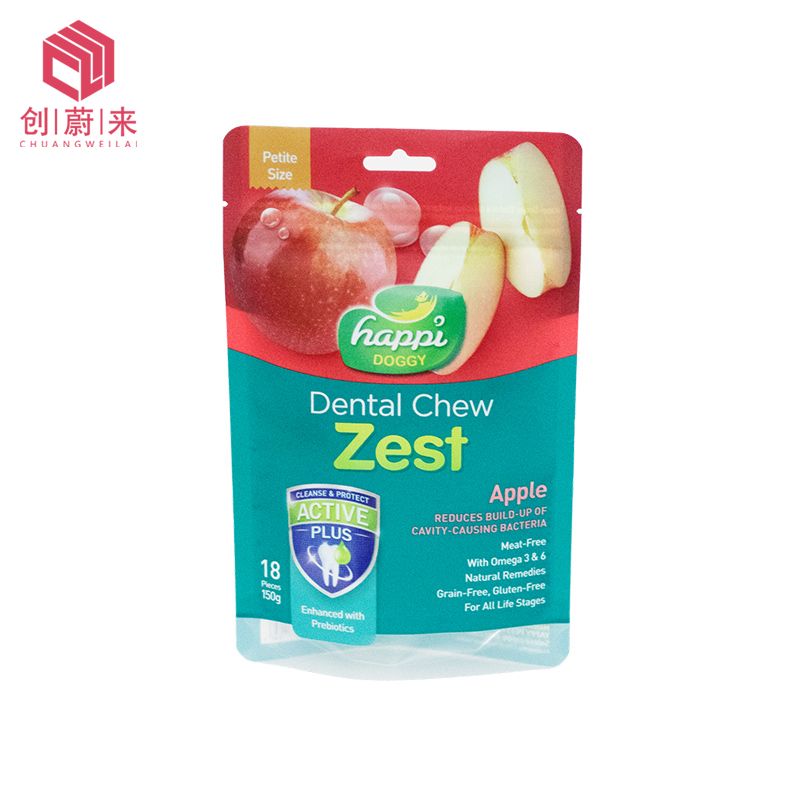 Customized pouch packaging: an upward trend
Customized pouch packaging has become a staple in the world of product packaging. These resealable pouches offer several advantages over traditional packaging methods. They are lightweight, easy to transport and have a low environmental impact. Additionally, they can be customized to showcase brand identity and engage consumers with attractive graphics and designs. The success of custom pouch packaging begins with choosing the right materials that meet both the product's requirements and the brand's sustainability goals.
Materials for Customized Bag Packaging
Polyethylene (PE)
Polyethylene is one of the most commonly used materials in pouch packaging. It comes in a variety of forms, including low-density polyethylene (LDPE) and high-density polyethylene (HDPE). LDPE is known for its flexibility and durability, making it ideal for packaging products such as snacks, frozen vegetables and liquids. HDPE, on the other hand, is a harder material that is often used for heavier items such as detergents and industrial products. Both types of polyethylene are recyclable, contributing to sustainability.
Polypropylene (PP)
Polypropylene is another commonly used material for custom bag packaging. It is known for its clarity and moisture resistance and is suitable for products such as dried fruits, candies and cosmetics. Often chosen for its excellent barrier properties, polypropylene pouches keep products fresh for a longer period of time. In addition, polypropylene is highly recyclable, in line with the trend towards environmentally friendly packaging.
PET (Polyethylene Terephthalate)
PET is a clear and strong plastic commonly used to package beverages, condiments and personal care products. Lightweight, shatter-resistant, and with excellent oxygen barrier properties, PET pouches are not only recyclable, but can also be made from post-consumer recycled materials, further minimizing the impact on the environment.
Aluminum Foil Bags
Aluminum foil pouches are known for their excellent resistance to moisture, oxygen and light. These pouches are commonly used to package items that require an extended shelf life, such as coffee, pet food and pharmaceuticals. While aluminum is not biodegradable, it can be recycled indefinitely, making it a sustainable option for custom pouch packaging.
Kraft Paper
Kraft paper pouches are a natural and environmentally friendly packaging option. They are often used for organic and artisanal products because they convey an image of rusticity and eco-friendliness. Kraft paper is biodegradable and recyclable, making it a great choice for brands that focus on sustainability.
Biodegradable and compostable materials
In response to growing environmental concerns, many brands have begun using biodegradable and compostable materials to customize their sachet packaging. Often sourced from renewable resources such as corn starch or sugar cane, these materials break down naturally without leaving harmful residues. They are suitable for a wide range of products, including snacks, coffee and personal care items.
Laminated Films
Laminated films are composites that are made by combining multiple layers of film with specific properties. They are versatile and can be used to provide a variety of barrier functions, such as moisture and oxygen protection, as needed. Commonly used in flexible packaging, including stand-up pouches, laminated films are an important option for custom pouch packaging.
Advantages of choosing the right material for custom pouch packaging
There are several advantages to choosing the right material for custom pouch packaging:
Product protection: Different materials offer different levels of protection from external factors such as moisture, light and oxygen. Choosing the right material ensures that the product remains fresh and in optimal condition.
Customization: The material chosen should match the brand's design and customization requirements. Whether it's a sleek, transparent look or a rustic, eco-friendly image, the material should fit the desired aesthetic.
Sustainability: As sustainability becomes a top priority for brands and consumers, choosing materials that are recyclable, biodegradable or compostable can enhance a brand's eco-friendly image and minimize its impact on the environment.
Cost Effectiveness: Each material has its own cost considerations. Choosing the right material for the specific needs of your product can help optimize production costs while maintaining quality.
Consumer experience: The tactile feel of the sachet package affects the consumer's experience. Materials that feel premium or consistent with the intended image of the product can enhance the overall consumer experience.
Customized sachet packaging is a versatile and effective way for brands to showcase their products and engage consumers. However, the choice of material is a key factor in determining the success of this packaging method. By carefully selecting materials that meet product requirements, brand image and sustainability goals, companies can create custom pouch packaging that protects their products and appeals to environmentally conscious consumers. Whether it's the flexibility of polyethylene, the clarity of polypropylene, the strength of aluminum foil, or the environmental friendliness of kraft paper, the right material can make a big difference in custom pouch packaging.

Why use custom pouches? Custom pouches can enhance your brand while improving the customer experience. The custom packaging pouches we provide are suitable for shopping, travel, promotions and other scenarios. No matter what industry you are in, we can customize pouches with your logo according to your needs.
Welcome to create your very own printed stand up pouch, flat pouch, spout pouch, flat bottom pouch, gusset pouch and etc.. CWL Packaging offers a fully custom service to suit your brand and products with competitive pricing and a commitment to customer service.
You can choose from a huge selection of custom options to custom your pouches for your brand and product. At CWL Packaging, we have a wide range of types, printing methods, materials, special process and finishes to choose from and to meet your requirements. View the custom options with our custom pouch packaging service.