What is Common Sausage Casing Made of?
Jan. 10, 2022
In the time of underdeveloped industry, people would make their own sausages, using the intestines of animals to make the casings. Now, with the advancement of technology, we buy sausages with casings made of rubber, which do not chew well in the mouth and have a strange taste. In addition to these two, what other kinds of sausage casings are available? 
Sausage surface casings are actually very important, whether it is the pre-smoking or the later consumption, what we eat is not only the taste of pork, the taste of the casings is actually very important!  Generally speaking, the traditional sausages are made from pig small intestine, which has a relatively thin intestinal wall and relatively low cost. Generally, in rural areas use pig small intestine to make sausages.
At present, there are two main types of collagen sausage casings in the market, one is natural casings and the other is artificial casings. SHENGMAO introduces them to you.
1. Natural casings - edible
It refers to the small intestine of various animals. Artificial casings are divided into collagen casings, cellulose series casings, smokable plastic casings, etc.! Natural casings are definitely edible. Sausages made with this type of casings will be very tasty and have a strong flavor. Natural casings are very breathable and can be smoked and cleaned.
The whole sausage can be eaten! Among the artificial casings, collagen casings are edible, which is a type of casings made from animal skin. It is similar to natural sausage casings, so it can be eaten.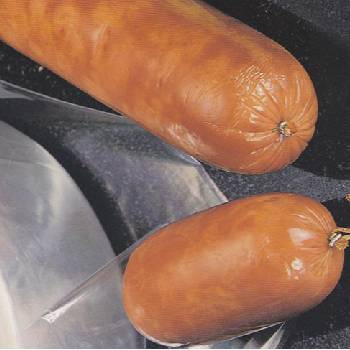 C400 Smokable Casings
2. Artificial sausage casings
Cellulose casings and smokable plastic casings, which are inedible. Cellulose casings are very breathable and make very nice sausages! But not edible! Smokable plastic casings are generally classified as polyvinyl chloride casings and nylon casings, which are pretty much what we always call plastics.
They are non-natural in chemical composition and are synthesized later, but these are two common plastic casings that are breathable. Poor sex, but can be smoked, and the surface is smooth and beautiful, so synthetic casings are used by many businesses to package their products!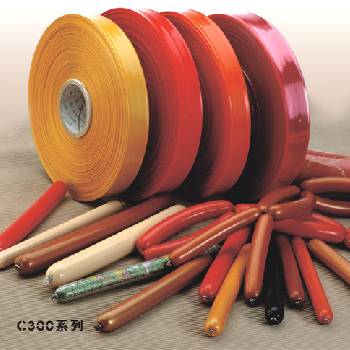 C300 3Layers Nylon Casing
3. Distinguish
So how do we distinguish these types of enteric coating? First of all, we need to know that natural casings are not very transparent and feel greasy, while smoked natural casings will have a strong fragrance and not a very nice appearance!
Artificial casings are generally more transparent and clean, and the plastic casings that people worry about are generally completely transparent, and because plastic is very flexible, generally the two sections of these casings are sealed with metal. In addition, the plastic casing is very smooth and elastic to the touch, so we can feel it when we buy it. If it is very slippery and there are no oil stains, then it is best not to buy it. This may be what we call plastic casing and cellulose casing.
Shengmao offers meat stuffers, vacuum sealed bags, and aluminum sausage clips. If you are a meat yard owner and want to make it easier for your own sausage production, please contact us.